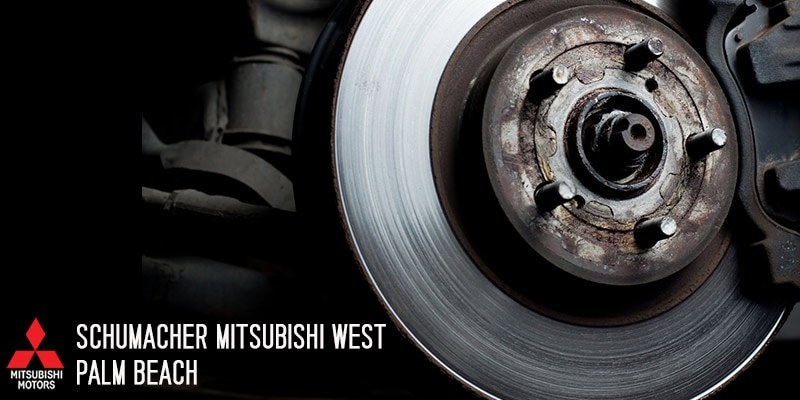 When it comes to car maintenance, it's much better to get ahead of any issues than deal with the problems when they arise. This is especially true when it comes to your brakes. To ensure a safe ride for everyone involved, get your brakes tested regularly.
At Schumacher Mitsubishi, we provide our technicians with the tools and training they need to check and replace your brakes in a quick and professional manner.
When and How to Have Your Brakes Changed at Schumacher Mitsubishi
When do car brakes need to be changed?
On average, brake pads should replaced after 50,000 miles. However, this number can change based on the make and model of your car, as well as how you drive it.
If your car starts making strange noises, your steering wheel begins to vibrate, or your dashboard brake light turns on, you should bring you car in for brake service immediately.
How are car brakes tested?
When you bring your car in for brake service at Schumacher Mitsubishi, we will first check to make sure your brakes and brake pads are functioning as they should. Next, we will see if there's any brake dust on the wheels, measure the thickness of the brake pads, and test both the steering wheel and brake pedal.
How should car brakes feel?
Focus on noticing the signs that your brakes aren't working properly, which include:
Vibrations in the brakes or steering wheel when you press on the brakes
Soft or spongy brakes
The car pulling to one side as you drive
What causes car brakes to fail?
Common reasons that brakes fail include:
Oil leaks that affect brake friction
Overheated brakes
Over-worn brake pads
Where to fix my car brakes?
When it comes to you and your passengers' safety, you'll want to put your car in good hands - and that means Schumacher Mitsubishi. Our expertly-trained technicians will ensure your brakes are as good as new before you hit the road.
Schedule your service today, and go back to driving with confidence in no time. If you have any questions or concerns, call us at (877) 308-6776 or stop by our dealership at 4047 Okeechobee Blvd, Suite 200 in West Palm Beach, Florida.
Make an Inquiry
Hours
Monday

8:30 AM - 8:00 PM

Tuesday

8:30 AM - 8:00 PM

Wednesday

8:30 AM - 8:00 PM

Thursday

8:30 AM - 8:00 PM

Friday

8:30 AM - 8:00 PM

Saturday

8:00 AM - 8:00 PM

Sunday

12:00 PM - 5:00 PM