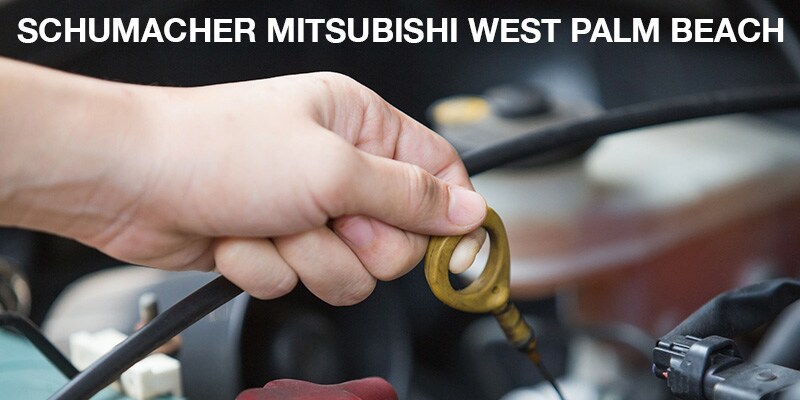 When you zip from 0-60 mph in your Mitsubishi, it feels like a breeze. But under the hood, your car is working incredibly hard - and oil is essential to that process. With every part of engine moving against each other at rapid speeds, your car needs oil to keep each component lubricated and functioning properly. That's why oil changes are so important. An influx of fresh, high-quality oil keeps your Mitsubishi running smoothly, so you can enjoy being behind the wheel with peace of mind.
FAQs About Oil Changes at Schumacher Mitsubishi
Why is getting my car's oil changed important?
Oil coats and lubricates every moving part of the engine. If you have poor oil quality in your car, the level of lubrication is also poor, resulting in engine damage. In order to prevent this and keep your car running properly, you need to regularly replace the oil.
How do I know when my car needs an oil change?
You should have your oil changed or checked every 3,000-10,000 miles. However, this can vary based on the make and model of the car. If you notice any of these warning signs, you should bring your vehicle in to be checked immediately:
Check engine light is on
Oil appears dark or silty
Engine runs louder than usual
Low oil levels
How do I check the oil in my car myself?
You can use your car's dipstick to check the oil. Follow these five easy steps:
Make sure your engine has been turned off for at least 10 minutes.
Locate the dipstick under the hood, and pull it out of the oil reservoir.
Wipe the dipstick across a lint-free cloth.
Place the dipstick back into the reservoir and pull it out again.
See if there is an oily film at the end of the dipstick.
If the oil seems silty, dark brown, black, or has particles floating in it, bring your car in for service.
What happens during a professional oil change?
At Schumacher Mitsubishi, we follow these four steps during every oil change:
Assess the level and quality of the oil.
Drain the oil in the reservoir.
Replace the oil filter.
Add new oil to the reservoir.
At the Schumacher Mitsubishi service center in West Palm Beach, Florida, we offer highly-trained technicians, a state-of-the-art facility, and genuine Mitsubishi parts to ensure we complete every service with accuracy and precision. Your car deserves the best - your car deserves an expert oil change at Schumacher Mitsubishi. Check out our service specials, and schedule your next appointment online.